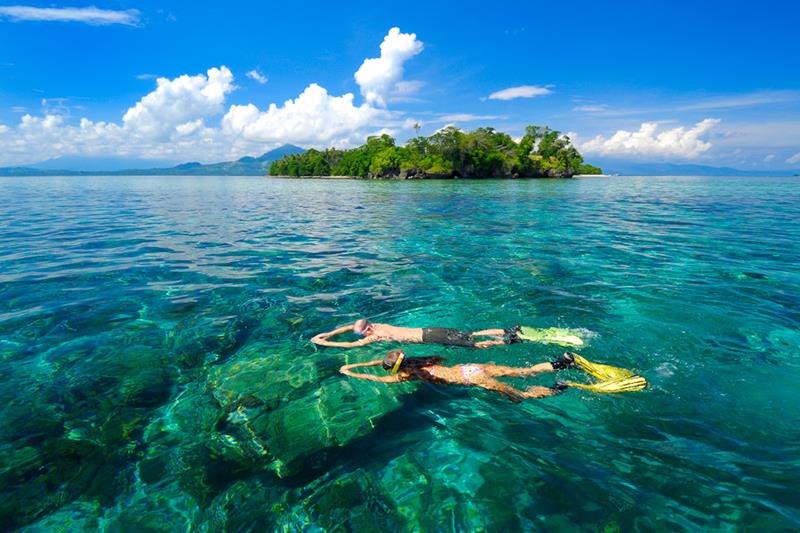 Scuba diving can be a pretty expensive hobby, and organizing a trip to one of the world's top dive destinations can be heavy on your wallet. One way to lighten that financial load is to look at the possibility of a scuba diving vacation package.
Scuba diving vacation packages are available to all the most popular dive destinationsaround the globe, and there is a huge range of options within those. Your best bet is to choose the location you would most like to visit, decide which time of the year it's best for diving there, then research online to locate the scuba diving vacation package deal that best suits your needs.
The best thing about a scuba diving vacation package is that it takes the guesswork out of your trip. This is especially important if you are new to the sport, or if you are visiting a place that you are unfamiliar with. We all have our special dive spots in the world, but you need to be aware if what's actually taking you back there time and time again is your familiarity with the place.
If you're concerned about venturing to different dive destinations for fear of not knowing where exactly to go and therefore missing out, then a scuba diving vacation package may be for you. Packages of this sort are put together by people who know the locations, therefore they should be able to secure the best prices, and bulk bookings usually get morefavorable rates.
Scuba Diving Vacation Package Options
The first point to remember is that you are far better off when choosing a scuba diving vacation package to go via a travel consultant who specializes in dive vacations. You will be able to locate a whole host of these online. Generic travel firms may offer dive packages but they may not be as knowledgeable about the finer points, and it is these little details that can elevate your dive vacation from enjoyable to unforgettable.
Vacations with Scuba Diving Included
These vacation packages will probably not be geared to the experienced diver whose whole reason for traveling is to dive. These are not pure scuba diving vacation packages, but they could be a good way to dip your toe into the sport if you are a novice, or an acceptable compromise if you are traveling with someone who is not a diver and who would like to see your head above water for more than an hour a day.
Dive Packages With and Without Flights
Normally, scuba diving vacation packages are cheaper when everything is included, but you shouldn't take this as read. Deals can be had on flights only that could undercut the package price, so a little research may pay dividends. You may be better off restricting your scuba diving vacation package to the destination only and handling the international travel arrangements yourself.
All-Inclusive Scuba Diving Vacation Packages
It is important to verify exactly what's included in your scuba diving vacation package. Meals included in a scuba diving vacation package may be breakfast only, breakfast and lunch, or three meals a day. Your eating habits will dictate how you want to play this, but meals can work out good value and remove some of the thought (and walking) from your vacation. Having breakfast included can be a good idea to save you rushing to get ready for your first dive of the day.
Truly all-inclusive scuba diving vacation packages – that's to say where all your food and drink are included – allow you to budget ahead of time because you will know that you only need to take a little spending money. However, this will restrict your dining out options, unless you are happy to effectively pay twice for the same meal. Consider how much you may want to "go local" and eat out away from the group.
Deciding on whether to include meals can be helped by some research online. Check out what the local fare is like. If the local cuisine leaves something to be desired, you may be safer with the included meals. The last thing you want is to become ill and miss any of your precious diving.
It goes without saying that you must know exactly what your scuba diving vacation package includes in terms of dives and dive equipment. Are enough dives included to satisfy you, and are they going to the kind of locations you most want to visit? Paying for extras on top of a dive package because it doesn't quite fit the bill can become a very expensive affair.
Depending on the resort and the scuba diving vacation package you choose, you will be allowed a set number of dives per day, or your dives may be unlimited. Dedicated dive resorts will probably favor the latter option, but you need to check this out, and let your specialist travel consultant know exactly what you want.
Ascertain what "unlimited" actually means. It may typically include 2 to 4 boat dives per day and unlimited shore diving. If you want to mix it up a little, then find a scuba diving vacation package that lets you specify how many dives take place on which days, so you can customize your vacation perfectly.
What You Need to Know About Your Scuba Diving Vacation Package
Here is a small checklist to help you book your scuba diving vacation package with confidence. You need to find out:
Is rental equipment included? – If not, how much does it cost to rent what you need? Can you reduce the cost by taking a few bits of gear of your own? If you want to take your own gear, can you negotiate the price down some?
>How many dives per day are included? – A crucial question to ask before booking your scuba diving vacation package. This is the whole reason for making the trip.
Are the dives boat dives or shore dives?
How many people will be on board for a boat dive?
What type of diving is on offer at the destination? Reef, wreck, wall, drift, cavern, blue hole, etc.
Is night diving an option?
What is the transfer time to the dive sites they will be using?
Is dive insurance included or will you have to take that separately?
A Final Point about Scuba Diving Vacation Packages
Fatalities amongst divers are pretty rare – estimates say around 5 per 100,000 divers – and they are decreasing every year. But half of those fatalities are reported to occur on scuba diving vacation packages, rather than on scuba trips organized locally by professional dive shops/operators.
You need to make sure that any scuba diving vacation package you are looking at is a professional operation and that fully-qualified personnel are involved. Equally, novice divers should not see these less-organized packages as a chance to fast-track themselves into deep water after just an hour's practice in the shallows. Professional associations like PADI and NAUI recommend that a full training and certification program takes place before any open water diving happens, which may not be the case with certain scuba diving vacation packages.