The subject of Caribbean scuba diving covers a lot of ground – or more precisely water. One thing you can rely on when looking at Caribbean scuba diving is that you won't be let down.
According to Nick Lucey, Editor of Scuba Diving Magazine: "When you dive in the Caribbean it's a known quantity. The conditions are pretty much relatively good. It's got a very developed infrastructure for diving. You know you're going to get a high level of service with the dive operations and the resorts."
For many dive aficionados, this is crucial. Caribbean scuba diving ticks all the boxes; the only real problem is where on earth in the Caribbean you actually want to go.
Caribbean scuba diving top spots
The Caymans
High on the list would have to be Grand Cayman, part of the Cayman Islands, a group of three islands located south of Florida in the Caribbean. The main island is Grand Cayman, and its two sister islands are Cayman Brac and Little Cayman. This Caribbean scuba diving location has been ranked No. 3 on the PADI (Professional Association of Diving Instructors) Network's list of favorite scuba destinations. Grand Cayman has great water visibility, excellent amenities, and is well-known for its themed dives at locations like Stingray City, where you can swim in 12 to 15 feet of water with as many as 50 Southern stingrays around you.
Wall diving is also a feature of Caribbean scuba diving in Grand Cayman, and the North Wall offers wall diving from around 90 feet. Closer to the surface, the drop-off at Little Cayman's Bloody Bay begins at a shallow 18 feet, then descends sharply to over 1,000 feet. Here the Caribbean scuba diving coral-lover will be in their element. All in all, Grand Cayman caters to all levels of diver, and there are plenty of activities for when you are out of the water.
Bonaire
The Caymans are not the only Caribbean scuba diving sites suitable for all levels of divers. The shallow diving of Bonaire, in the Dutch Antilles, is ranked No. 2 on the PADI Network's list of favorite scuba destinations, thanks to the fantastic shapes and colors in the reefs there.
Caribbean scuba diving trips can take some planning, so it's good to know that Bonaire lies southwest of the normal hurricane belt, the sun shines nearly every day, and all diving happens on the island's 24-mile leeward west side where the seas are usually calm.
Plus, all the sites around Bonaire are accessible from the beach, as Bonaire's massive reef system begins just a few hundred feet offshore which is a rarity in the Caribbean and a great boon if a non-diver is accompanying you on your Caribbean scuba diving vacation. This feature also makes Bonaire a great place to become dive-certified, as training can be conducted in safe shallows.
Cozumel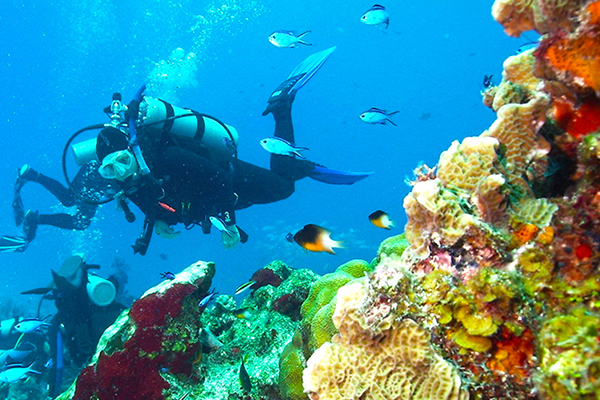 The largest of the Mexican Caribbean's islands, Cozumel is just 12 miles off Mexico's Yucatan coast and would certainly have to be on your Caribbean scuba diving wish-list, being ranked No. 1 by the PADI Travel Network. Cozumel has the clearest water in the Caribbean, with visibility never less than 100 feet and sometimes over 200 feet. The only pause for thought may be if you are a novice because you may find the continual current a little unnerving, as Cozumel is known for its drift diving.
Cozumel is not only a top spot for scuba diving, it is also a great all-around fun destination with luxury accommodation and buzzing nightlife.
Cocos Island
If your idea of a Caribbean scuba diving vacation is moving from boat to water back to boat, then the Costa Rican Cocos Island may appeal because this island is over 300 miles from the Costa Rican coast and boat-living is a necessity. PADI ranked this Caribbean scuba diving location No. 6 due to the ease of spotting the most impressive marine creatures. Dive operators consider the Cocos Island to be one of the best big animal dive destinations in the world.
Belize
Belize is a largely undiscovered gem for Caribbean scuba diving enthusiasts, despite the fact that its barrier reef is 185 miles long, which makes it the longest in the Western Hemisphere.
Diving is carried out on the reef and around the atolls and cayes (keys). For the more adventurous, a 60-mile trip off the coast will bring you to the Lighthouse Reef system, where the famous Blue Hole is located. No one on a Caribbean scuba diving trip to Belize will want to miss this – an almost perfect hole a quarter mile wide that descends vertically over 400 feet.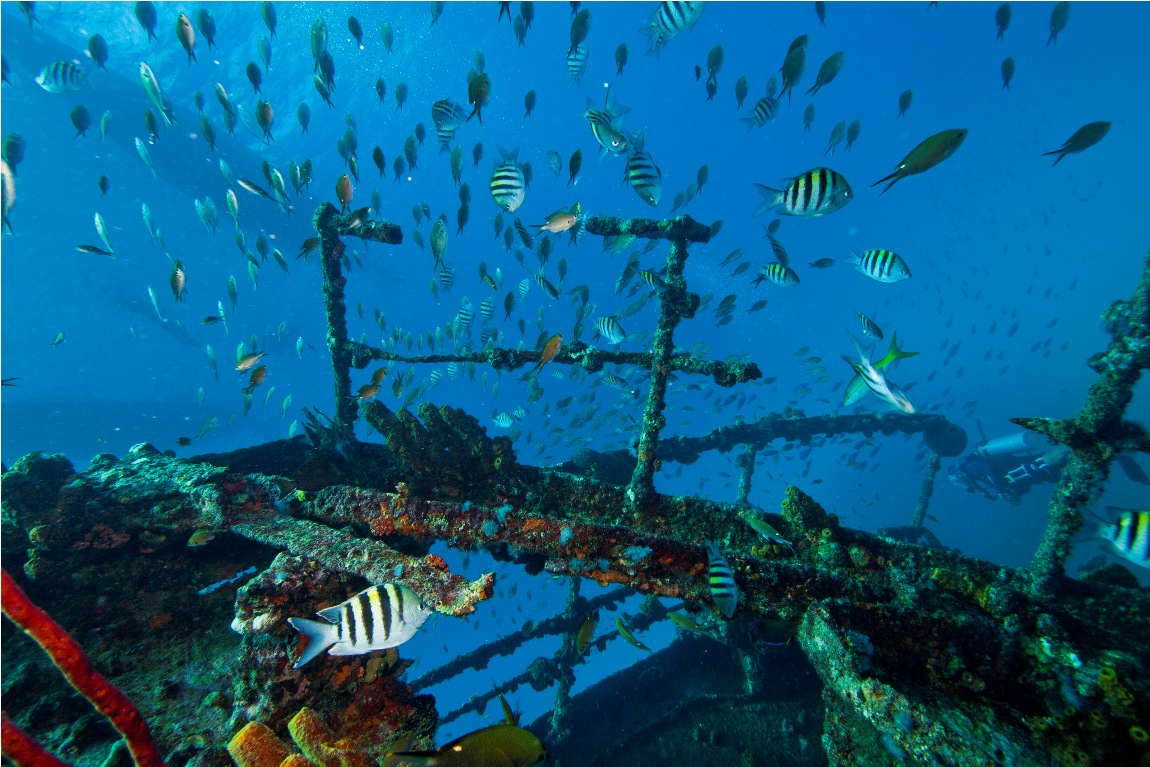 This is the ideal spot for a Caribbean scuba diving vacation if you have a penchant for exploring wrecks. Aruba has the largest of all Caribbean wrecks, the 400 foot German freighter called the Antilla, scuttled in the Second World War. All of the dive sites are easily accessible, as the island is only 19 miles by 5 miles, and there are thirty main wreck and reef dives to explore.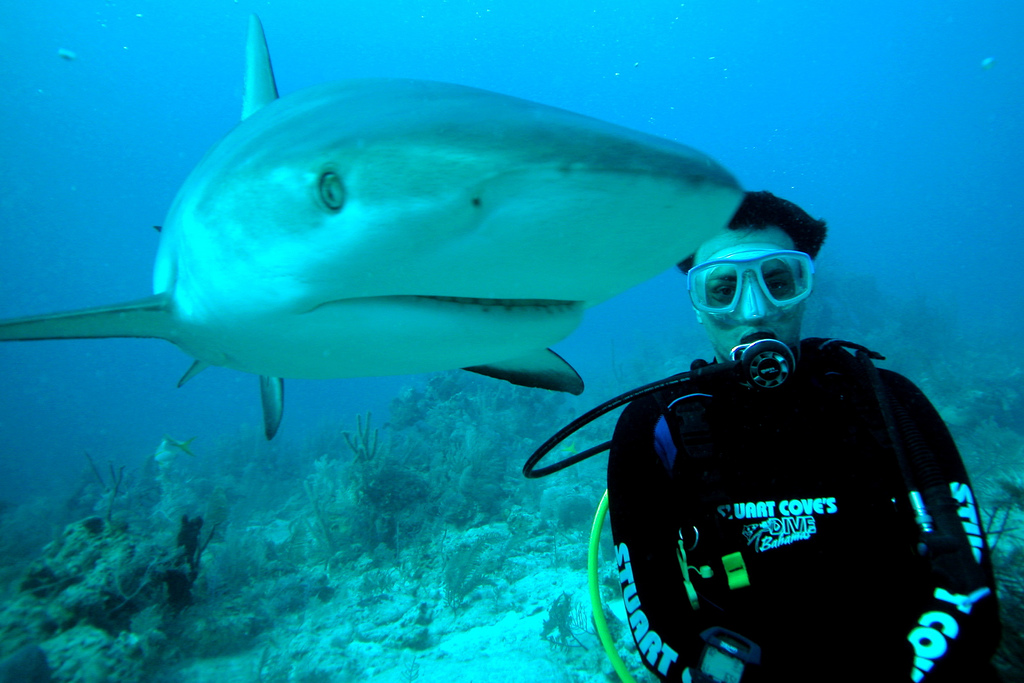 Mention has to be made of the Bahamas in any article on Caribbean scuba diving, as there is so much on offer that you are utterly spoiled for choice. The Bahamas is actually an archipelago of 700 islands, and whatever your diving preferences, you will find an answer somewhere in the Bahamas. Sunken Spanish galleons, blue holes, ocean caves, coral reefs, and marine life in abundance are all awaiting the keen Caribbean scuba diving tourist.
Saba
Saba is one of the Windward Islands of the Dutch Caribbean, and it is called "The Unspoiled Queen" because it is not overrun by tourists. It is best known for huge underwater pinnacles that rise to within 80 feet of the surface, and also boasts underwater lava tunnels and hot springs.
No matter where you venture on your Caribbean scuba diving vacation, you really can't go far wrong. And don't take this as a definitive list; remember that there are plenty of other great scuba diving destinations that have not been mentioned here, including St Lucia and the U.S. Virgin Islands.